Project Summary
Throughout my childhood, I was forced to deal with circumstances regarding my family that I could not control, like the separation of my parents, and the death of my father. These moments of trauma placed me in uncomfortable situations, yet I was forced to explore my internal feelings with my family members, which was foreign to me. At the age of eleven, the separation of my parents initially dawned upon me. I was incapable of expressing my feelings of distraught to the people around me. I confined these feelings even more after the death of my father at age twelve, where I refused to make myself vulnerable with others, and myself. In this project, I wanted to share the truthful reality of what adversity at a young age looks like. For my independent project, I have written a screenplay for a short film exploring the feelings of needing to control, expressing my feelings, and isolation.
Elevator Pitch
Broken Spine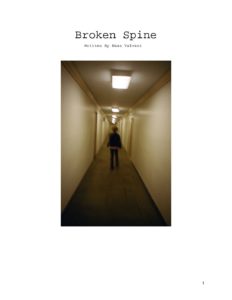 Additional Information
I love telling stories through writing and visual representations of film and photography. Intertwining these concepts, I discovered my interest in film. My interest in film has been ongoing for numerous years now, although I have primarily been focused in the visual aspect of filmmaking (cinematography). Although, my interest for writing has always been prominent. I decided to explore and examine screenwriting more closely, rather than visual aspects. Although I have loved creative writing for years, screenwriting was essentially foreign to me. I utilized texts and workshops to immerse myself in filmmaking and screenwriting.
Special thank you to
Sabrina Washburn,
Greg Washburn,
Doug Liman,
Peter Becker,
and the Rubesame family.