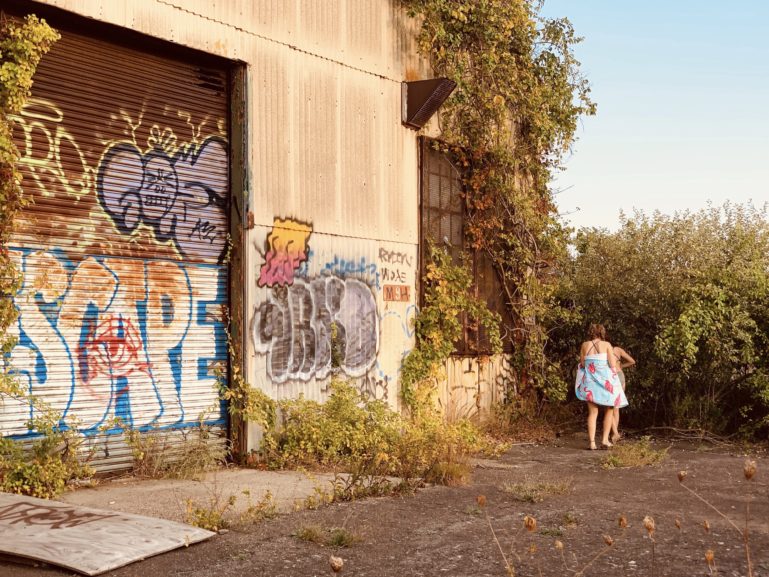 Project Summary
For my March Madness, I created a series of artworks inspired by Fort Tilden. Fort Tilden is a military base on the beach in the Rockaways that was active from 1917 to 1995. It was used during WWI, WWII, and the Cold War, but today is entirely abandoned. Despite its abandonment, most of the fort remained, and had no real use- thus it began to deteriorate. Because it is so far out in the Rockaways, very few police are present in the area so graffiti artists took over all the abandoned buildings with their artwork. The goal of my project is to create artwork that explores the history of the place, it's current state, and the relationship between those two things.
Elevator Pitch
Fort Tilden Map of My Photography
Additional Information
Brief descriptions of each piece:
1: Erosion: This was created by erasing graphite out in order to recreate a historical photo. The technique of erasing out not only creates an accurate representation of the photo, but mimics the process of taking away from something, or eroding.
2: Glass Bottles: This is a drawing of dried grasses planted by the army in World War I in glass bottles from a neighboring beach. The bottles, which washed up on a specific beach because of currents, are from various years throughout the 20th century. The combination of these two things illustrates the beauty in what is left from these historical periods.
3: Graffiti: Using spray paint on canvas, this is a tag I created for myself. I took a class to learn technique and understand more the artistry in graffiti. This piece is a result of my learning to appreciate the ways that graffiti at Fort Tilden is beautiful, not just illegal.
4: Disposable: When it was built, most of Fort Tilden was meant to only be temporary, yet years after its abandonment, it still stands. These photos are taken on a disposable camera in order to mimic that intention of temporality, but result in permanence.
5: Interwoven: These three pieces are representative of the ways that the past and present of Fort Tilden interact. They are each weavings of two images: a historical image relating to Fort Tilden and photo of the modern day graffiti there. Weaving these together creates a physical interpretation of the way the place has evolved.
6: Continuity: Through its 100 years of existence, much of Fort Tilden has stayed the same. Each of these images is made up of a historical photo and a photo I took of the same location. It emphasizes both the importance of preservation and the beauty in the deterioration of the fort.
7: Army Jacket: This piece is a military jacket that has been graffitied over. The words I wrote on it are all key words from historical documents written about the place. It combines the military history of Fort Tilden with its current role as a canvas for graffiti art.
8: Topography: Using construction paper cut at different heights and rubber cement, I created this piece to mimic topographical maps of the area. The land Fort Tilden is built on has changed throughout history yet it still serves the same purpose, to protect. Creating this representation of it illustrates the beauty in the unchanging goal of it.
9: Abandonment: These are images I have taken o that depict the ultimate feeling of being there- abandonment. They serve as not only a way to acknowledge Fort Tilden's air of resignation to decay, but to appreciate the beauty in what it has become.