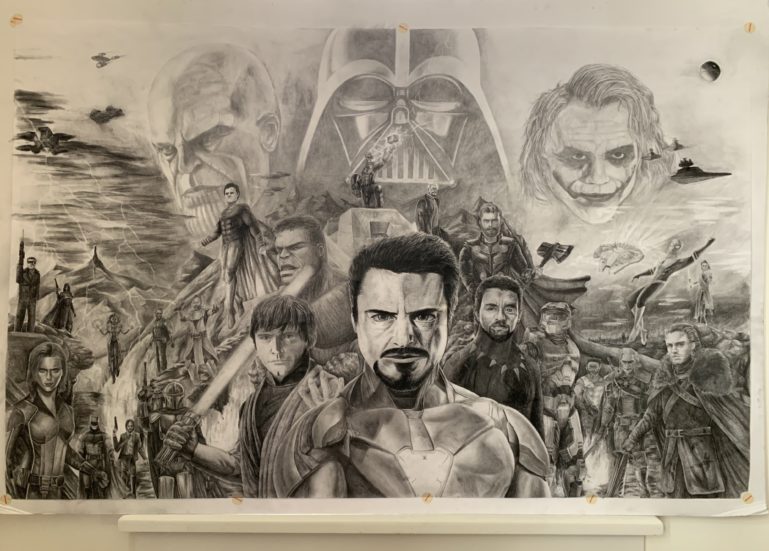 Project Summary
At the beginning of the school year, I was watching Indiana Jones and the Raiders of the Lost Ark with my dad. Whilst watching the movie, I realized that the character of Indiana Jones was the ultimate fictional protagonist/hero when my dad was growing up. This was one of the characters that my dad looked up to as a kid. This prompted me to reflect on the fictional characters that I have looked up to growing up, and how they have contributed to the way I act and what I believe. I also was considering a project relating to drawing, as it is a medium of creative expression that I have been practicing since before I can remember. I had never had any real formal training in drawing, so a majority of my understanding of the medium came from years and years of trial and error. I would learn some new way of approaching my drawings after each little mistake or criticism I made, always pushing myself to improve and do the best that I could. I decided that I would combine this outlet for creative expression, in which I have been striving to be the best I can be, with the fictional heroes that have helped to instill that very ideology in me, and in many others. the final result was a drawing at a scale much greater than I have ever tried before, as a sort of ultimate challenge for me to push myself to do the best I can in this medium, and depict the characters who taught me to do so.
Elevator Pitch
My Drawing Time-lapse
Heroes of My Generation Presentation
Additional Information
Throughout the course of the project, I tried to expand my understanding of my heroes and the medium I used to depict them. I interviewed a former creative executive at Cartoon Network, named David Preiss, in order to get a better understanding of how characters are created, and how they can be used to instill ideologies in the youth that look up to them. In order to broaden my understanding of the medium I love so much, I met with a graffiti artist, and we spent a few hours creating a piece at a large scale. I had never really done any graffiti, or anything at a scale larger than 8 and a half by 11, so this really helped me get an understanding of what would be achievable, and also gave me a chance to get a little more creative than what my normal style allows. Since I had never done any formal training in realism, and just pieced together my understanding of the medium myself over years and years, I thought that this would be the best time to do so. I attended 4, 3 hour courses at the Woodstock School of Art, in order to really define the techniques I have taught myself, and improve my skills. The final drawing is 60/40 inches, and took me a little over 120 hours of actual time working. I used a combination of graphite and charcoal pencils, and included a total of 28 characters, from 7 different franchises. I might recommend trying your hand at seeing how many of the characters you know, or even grew up with.