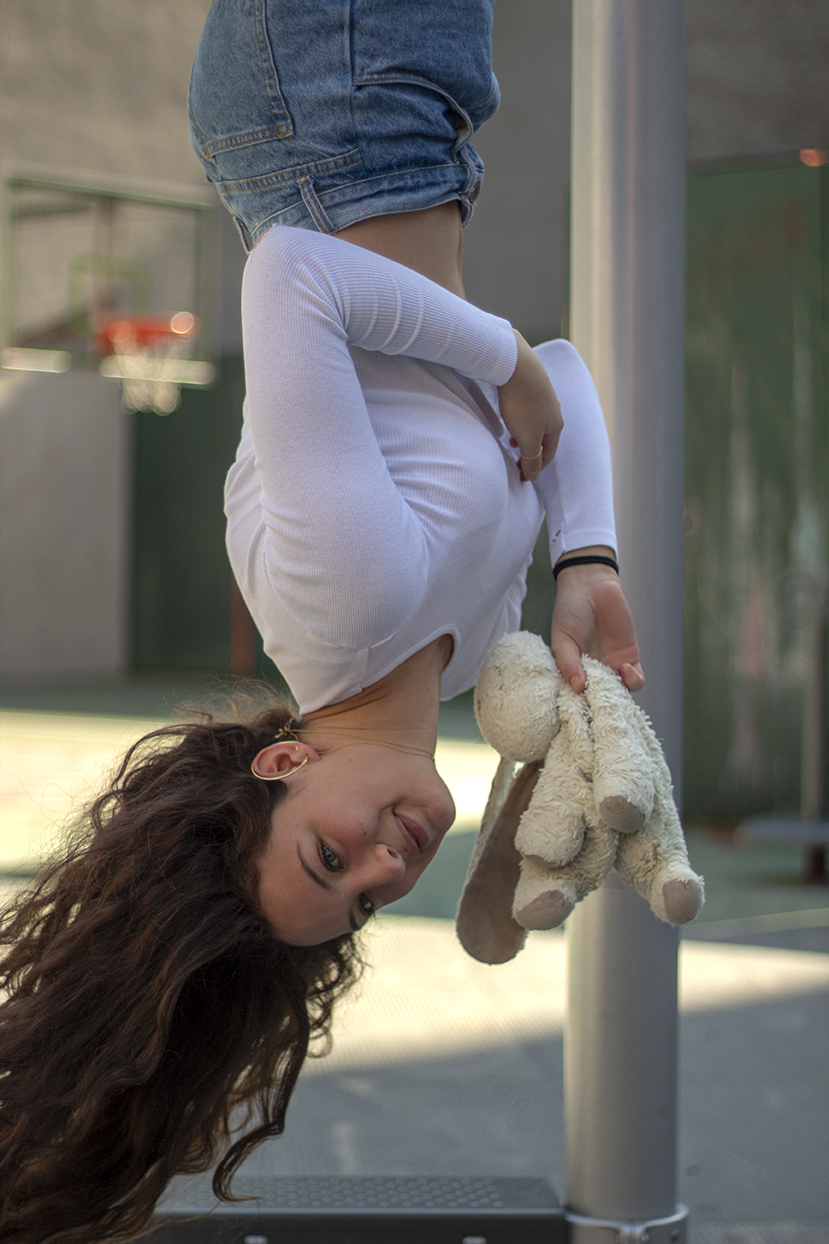 Project Summary
My project, nostalgia, is a photo collection of my friends. These photos were taken in places that are special to them with items from their childhood that have had significant meaning throughout their lives. While we were brainstorming about our projects in the beginning of the year, I originally wanted to do something related to fashion, but later realized I wanted my project to have a more personal aspect. I chose this idea because it was personal, but not only for me. Taking these photos was a very helpful way for me to increase my photography skills and learn how to portray emotion through photography. These are photographs of my friends M, Maitri, Carolina, Alexa and Charlotte.
Image Descriptions:
MAITRI NILES
TEARDROP PARK
This is Maitri. We met at City and Country School, which she attended for nine years. I met her when I was 11 years old and since then, she has been a very important person in my life. After she switched to Packer, a highschool in Brooklyn, we haven't been able to see each other as often as we used to, but whenever we do get to hang out, it is always the same as it used to be. One thing that she hopes for her future is to continue being as observant and reflective as she currently is. Her reflection has helped her figure out a better sense of self and helped her to also figure more out about the ways of the world. She loves art, reading and being alone. Her independence is something that she is very comfortable with and one day, she hopes to become 100% independant. She chose to be photographed with her baby blanket in Teardrop Park, a park that is special to her because it was where she spent most of her free time as a kid. It reminds of her the summers she had when she was younger because she came here almost everyday after school when it was warm outside. The first thing that she remembers from this park was the big slide. She was very intimidated the first time she saw it. But this slide led to many other memories, her favorites being the ones where she was just carefree and playing without any consequences or fears. Though she rarely visits this park anymore, it is somewhere that she will never forget about. When she was born, her uncle gave her mother this blanket that she chose. "It's just been a kind of random object in my life that I would be so sad if I lost." It is 15 years old and she sleeps with it every night. It has always been there to warm her when she is cold and to be there for her when she is sad. "It hasn't been like a comforting presence when I'm sad, but it's definitely been there for me every single time."
M KENIG
FORT GREENE PARK
This is M. She is 15 years old. We met on a trip to Jamaica and little did we know how close we would end up being. She lives in Greenwich Village with her mother and Williamsburg with her Father. She attends Packer in Brooklyn. One thing that M hopes never changes about herself is her confidence in herself and not changing the way that she is. She enjoys education and hopes to work in an educational field when she is older. She chose to be photographed in Fort Greene Park, which is where she spent a lot of her childhood and met almost all of her close childhood friends. She doesn't visit often anymore, but when she does, she reminisces on her youth. With her, M brought a small teddy bear that her mother knit for her. Though she didn't cherish it as a child, it has significantly begun to mean more to her as she has grown up. It has helped her to reflect on her childhood and it always brings good memories back to her when she is feeling sad. Though her mother doesn't knit often, she made this for M when she was pregnant. It reminds M of her old neighborhood and living there with her old friends.
CHARLOTTE MERRIN
FAO SCHWARZ
Charlotte is 15 years old and lives on the Upper West Side. She started coming to Grace for highschool after attending Windward. She has developed a deep love for poetry and still has a very fun child-like personality. We took our photos at FAO Schwarz, a toy store that she used to visit multiple times a month as a child. She remembers the first couple of times she came and how amazed she was by how big and pretty it was. It is very special to her because it used to be next to her father's office, so whenever she went to work with him, he would always take her. One time that they went together, she made her own muppet and she really enjoyed dressing and designing it. The feeling that these memories brought to her was "a full heart." Though she doesn't visit often anymore, she used to come at least twice a month. I photographed her with a monkey that used to belong to her father, but was then passed down to her. It was from her father's college years and he gave it to Charlotte when she was born. It is about 30 years old and she keeps it on her bed to sleep with every night. The monkey reminds her of her childhood because of all the times that it has been there for her when she is sad.
ALEXA SIMONE BOWMAN
LINCOLN CENTER
This is alexa bowman. She is 16 years old and we met at Grace Church. She lives in Harlem. One of my personal favorite things about alexa is her sense of humor and whenever we are together, it feels like we never stop laughing. We took our photos at Lincoln Center which is an important place to her because she and her family would walk through it and go see shows. Her first memory here was when she was eight and going to the big apple circus and seeing the big water fountain in the middle. She visits about once a month now. With her, she brought a lullaby machine that is significant to her because she has had it since she was a little girl and she always sleeps with it next to her bed. Her parents have it to her and she has had it for 16 years. It reminds Alexa of when she lived in Texas and her childhood there, and her big move to NYC when she was five years old. It helps her to remember that her childhood was not too long ago and to not grow up too quickly.
CAROLINA LANSING
DESALVIO PLAYGROUND
This is Carolina Lansing. She is 16 years old and she lives in SoHo. We originally met through our mutual friend Rio, but got much closer after attending Grace Church together. We went to DeSalvio Playground across the street from her house to take our photographs. This playground is very special to her because of all the memories that she associates it with from her childhood and when she and her brothers would all come together to play. Carolina brought her stuffed bunny named Lamb with her.
Elevator Pitch
Additional Information