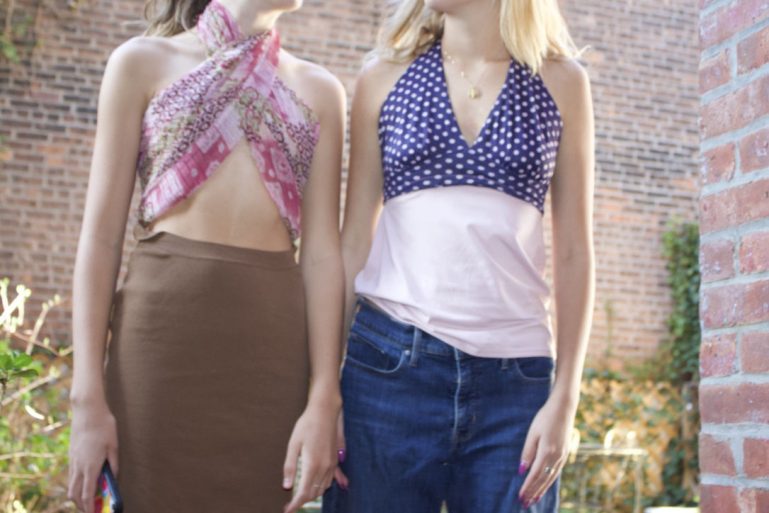 Project Summary
Since I was little I have always loved fashion, art and photography. I dreamed of one day opening a clothing store. My ideal job was to create something that might make a difference in the world. 
As I became more and more aware of climate change, I learned how purchase by purchase we contribute to Earth's destruction. We make delibarate decisions, such as supporting fast-fashion companies, that impact the world. In lieu of this project, I asked myself: what can incorporate my love for the arts and my wish to do something impactful?
Some time ago, I came across the idea of upcycling and how I could put together outfits and pieces of clothing sustainably, using old clothes or used ones to do so. The mission of my project from the start was to spread information by promoting a visual of eco-friendly life choices. I wanted to spread information the industry, and exhibit the possibilities that one can create at home. I drew inspiration from anything I saw that could be useful, from people and the diverse style of New York City, to the expanse of the internet, including: Pinterest, Depop, Youtube, and Instagram.
With some experience with sewing and crafts and my love for clothes I taught myself the process of making a mini clothing line and different outifts. From finding materials and pieces, to upcycling them into new recycled and fashionable items, I used online references and the help of a family friend to get started. Learning the ins and outs of using a sewing machine proved to be somewhat challenging and tedious at first, but as I got the hang of it and learned some tricks, it became second nature. 
At first my goal was to have a final paper copy of my project, something resembling to lookbook. Nonetheless, during my Digital Tools and Citizenship class I learned about google sites and how much easier it would be to create my own website. This was a pleasant surprise because the idea of making a website at first seemed laborious and difficult. With this new discovery I could easily exhibit the clothing through pictures and add both writing and links to outside sources. In fact, the final result and culmination of my work is a website with different pages describing the facets of my independent project. These include a lookbook, the story behind what inspired me, what the process looks like, research, and a mission statement. Not only am I going to continue this project, but I will adapt what I have promoted and learned into my own lifestyle. Now that I know more about the fashion industry, I will continue to make mindful decisions, as well as use my new skills to reuse, recycle, and upcycle.
Project Images